-
Redbox
TTC, a Gold Partner of Redbox, have installed thousands of channels of Red Box recording solutions for our clients around the world.  TTC have found the reliability, ease of use and product features suitable for the various requirements found in the market sectors that we serve.  Our staff are trained to second level and our 24/7 engineer-manned Help Desk ensures that enquiries and issues are addressed immediately.
Red Box Recorders help organisations to gain competitive advantage by delivering a wide range of business and operational benefits including mitigating risk, enhancing customer satisfaction and loyalty, increasing productivity, reducing costs and ensuring legislative compliance.
Red Box Quantify Recording Suite is a user-friendly and intuitive voice and data recording software solution that is suitable for companies and organisations of all sizes. It can be tailored to meet precise customer requirements with a wide range of functionality including Quality Management, PCI Compliance, Call Management and Billing, Event Reconstruction and Audio Analytics.
Already trusted by some of the biggest names in the city of London, it's proven worldwide to record and store all communications from multiple sources, whether dealerboards, fixed line, Hoot 'n' Holler, SMS, voicemail and mobile/cell phones across a wide range of platforms on trading floors in investment banks and brokers.
We understand that complying with regulation is key for financial markets, and we stay on top of understanding the latest regulations to ensure that our products are always ready to assist with the latest requirements. The most significant piece of legislation recently to affect the financial markets is the Dodd-Frank Act, which has the most extensive requirements yet for call recording and record keeping.
Audio Search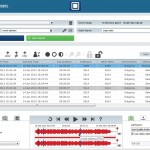 Dependable total recording from Red Box provides:
Front office recording
Back office recording
Assistance in compliance with local and global requirements including those regulations promulgated by the CFTC and SEC (USA), the FCA (UK), JSOX (Japan), and those recommended by the European Union laid out in Basel II and MiFID
Instant dispute resolution
Compatible systems
The Red Box recording solutions are fully compatible with TDM and VoIP trading environments:
Mitel
Cisco
Avaya
BT
IP Trade
Reuters
IPC
IPFX
Speakerbus
Orange Business Services
In addition, they provide:
Complete compliance with business continuity and resilience requirements – scalable N+1 and Primary/Secondary (1+1)
99.999% availability (uptime)
Small footprint or virtualised solutions
Full integration and compliance with all telephony and VoIP standards
The ability to minimise liability and adhere to regulations and guidelines with automated retention rules