-
ASC
TTC are pleased to add ASC's latest 'neo' suite to our portfolio of products. This strengthens our offering to clients who are looking at value added services and products rather than just a standard voice recorder. Founded in 1964, ASC is one of the longest established leading global providers of Compliance Recording and Workforce Optimisation (WFO) solutions which provide high levels of security, redundancy and flexibility for regulated businesses.
ASC's applications record vital information, enabling businesses to understand and act upon otherwise untapped business intelligence. This allows them to enhance customer service, sales, efficiently deploy staff, increase productivity and comply with industry guidelines and compliance legislations.
ASC´s software applications are used in Financial Institutions and Contact Centres to record and continuously measure and improve the accuracy and quality of client interactions. Data from all communications sources are collected and brought together within INSPIRATIONneo. Based on the content of this data, INSPIRATIONneo is able to reveal breaches in compliance in both the trading floor / contact centre and back office operations. This enables organisations to overcome business challenges such as errors, compliance issues etc.
ASC's latest compliance recording and application suite is built up of the modules shown below:

ASC revolutionary new 'neo' suite has a completely re-designed architecture allowing either on premise or full multi-tenanted cloud deployment and is the first fully Java designed Multi-Channel recording platform capable of utilising a selection of data-bases to meet an organisations preferred requirements.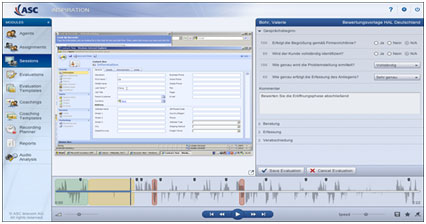 Pre-packaged and bespoke scheduled reporting and configurable real time dashboard: