-
Speakerbus
Introducing the new high performance global trading system
TTC are proud to present the latest global trading solution which gives traders the power, speed, control and accuracy required to lead in today's competitive trading environment. Traditional turrets are limited by the closed nature of outdated telecoms technologies. i turret breaks free, complimenting your existing IT infrastructure and providing a true 'turret anywhere' solution with dramatically reduced back office hardware.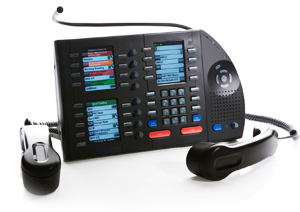 A voice platform that radically transforms the user experience
The i turret offers full trading functionality with integrated Hoot 'n' Holler speakers, Private Wires, two handsets, optional cordless headsets, call history, divert and trade-from-home as standard. Users can differentiate lines using various colours and ring tones thus ensuring your priority clients get the service they demand. Coupled with the ability to integrate into your incumbent communications platform, the i turret offers a cost effective high level trading platform for the modern trading floor. Equally demanding as the traders'environment is the effort required to support an active trading floor; i turret comes with an easy to use management tool enabling administrators to efficiently manage busy trading floors wherever and whenever on a 24×7 basis.
Trader voice without the infrastructure
The i turret can use an existing IP-PBX infrastructure to deliver a significant return on investment compared to traditional trading platforms. By reducing the back room equipment footprint clients can reduce cost, minimise complexity and optimise support skills. All of which are important issues for regional offices, hedge funds and operations in emerging markets. Speakerbus' technology offers clientside conferencing which removes capital expenditure and capacity loading on a PBX, with the added benefit of incredible flexibility. The search is over for a turret with 'no back room'.
Up to two speaker expansion modules can be supported via a single iD808 turret enabling support for 94 speaker channels per position. The additional modules are powered by the associated iD808 via a link cable, removing the need for additional power supplies.

The Button Expansion Module
The latest enhancement to the Speakerbus turret suite is
the iE816 button expansion module. The iE816 is one of a series of companion modules that expands the capabilities of the iD808 by providing extra buttons, soft keys and twin colour displays.
Additional features include; user customisable number of float and fixed keys, speed dial function keys and direct line access keys. Up to two iE816 expansion modules can be supported via a single iD808 turret. The additional modules are powered by the associated iD808 reducing the need for additional power supplies.